Home > About us > GP practice vacancies > LLR Nursing Associate Programme
LLR Nursing Associate Programme
LLR Nursing Associate Programme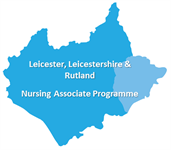 In January 2017, UHL launched the Nursing Associate Programme across the East Midlands and Leicestershire, welcoming trainees from across the county who will embark on this unique programme for the next two years as part of a national pilot.
The LLR Nursing Associate Programme is unique because it is being developed in partnership with practice staff from different NHS organisations, independent and private organisations across Leicestershire, and in collaboration with De Montfort University.
> Click here to find out more about the national Nursing Associate Programme
> Click here to read Health Education England (HEE) Frequently Asked Questions
About the LLR Programme
Programme Leader; Annabel Coulson Practice Learning Lead (UHL)
Project Lead; Eleanor Meldrum, Assistant Chief Nurse (UHL)
The Programme consists of 8 modules over two years, each worth 30 credits which will be studied at Level 4 in the first year and Level 5 in the second year.
Module 1; Professional Values and Scope of Practice
Module Lead; Claire Agnew Senior Nurse Practice Development (UHL)
This module will focus on the role and the transition towards a Nursing Associate; trainees will have the opportunity to explore what professionalism is and how it will apply within the context if their environments
Module 2; Delivering Care
Module Lead; Ruth Ibbotson Education Sister (UHL)
Trainees will gain an in depth knowledge around anatomy and physiology and how to apply their learning within the context of their role
Modules 1 & 2 started on Monday 30 January 2017 and trainees associated outcomes will be supported with in practice throughout.
Trainees
There is a diverse group of 50 trainees from a wide range of adult and child providers working across the NHS, private and independent health care sectors. Trainees are mainly progressing from Healthcare Assistant roles but we also have ex-student nurses who have to change career direction. We have also recruited support workers from the Mental Health Crisis Team, as well as District and Community Hospitals, LOROS inpatient areas and GP Care Assistant Roles who support registered practice nurses.
Nursing associates are placed as follows:
Leicestershire Partnership Trust  – 11 trainees in nursing associates in mental health and community nursing
LOROS – 4 trainees
Nuffield Hospital – 1 trainee in surgical area
University Hospitals of Leicester NHS Trust – 9 children's trainees in the Children's Hospital
University Hospital of Leicester NHS Trust – 25 adult trainees across the alliance (community hospitals), medical, surgical, respiratory, ITU, ED and assessment areas
All trainees have been assigned a Supervisor who is a registered healthcare professional.
All trainees are easily identifiable with a Nursing Associate badge; they have also been provided with a white tunic top and grey epaulettes.
Future opportunities 
If you are interested in joining the Nursing Associate Programme, there will be opportunities to enrol via the Apprenticeship Scheme at the start of 2018. Further information will be shared in August 2017 about how to apply.
Please note – Level 2 / GCSE equivalent in Maths and English is an essential criteria for applications for trainee posts. If you do not have this qualification, please contact the HR Training Team for advice on 0116 258 5495 for advice on how to gain this qualification at Leicester College.
FAQs for staff
How long will the trainees be away from their clinical areas?
Trainees will study for three days per week; Monday,Tuesday and Wednesday, starting on 30 January for six weeks = 22.5 hours
They will then have one study day per week on a Monday = 7.5 hours
There will be a further two weeks from 31st July and two weeks in January 2018 when they will need three days theory Monday, Tuesday and Wednesday.
What supervision do trainees need?
Trainees will need a registered healthcare professional to take the lead in supporting them through each placement experience (a Supervisor); they will need to be able to work alongside them and support trainees to access a range of opportunities to facilitate the achievement of outcomes.
Will trainees be supernumerary?
No. Trainees will still be employed and able to undertake their existing role; however they need to be supported to undertake learning in practice under the supervision of a registered professional which may mean that they have to be relieved of certain duties.
Pathway opportunities should be supported to enable trainees to experience and understand the patient journey.
Can trainees continue to undertake roles for which they have been trained?
Yes. For example, if a HCA has been trained to cannulate or perform venepuncture, they can continue to do so within the confines of their original base area but not when they experience alternative placements.
What are alternative placements?
During the two year programme trainees must experience placements in different settings; care in hospital, care closer to home and care at home to be able to evidence the transferability of their skills
These will take place three times a year in five week blocks and will be planned into each individual programme to ensure that any pre agreed annual leave is considered; annual leave cannot be taken during these weeks
Pathways will be included within these experiences to ensure that trainees explore the patient journey.
---
If you have any other questions or would like to discuss supporting the programme, please contact Annabel Coulson, Programme Leader on 0116 2585846 / 07984522223 or email annabel.coulson@uhl-tr.nhs.uk